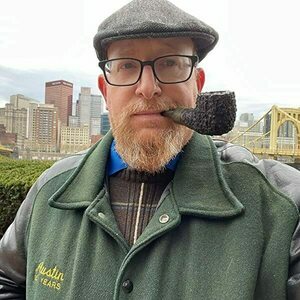 Austin Shifrin
Special guest
Austin R. Shifrin has had a multifaceted past: a Master's Degree in Public Policy and Management, a singer in a ska band, a founding member of a vintage scooter club. Since 2006, he has become heavily involved in the Free and Accepted Masons of Pennsylvania, as a member in 2 regular (or "blue") lodges, and 7 other Masonic bodies. One notable accomplishment has been receiving the 33rd degree in Scottish Rite masonry.
His writing for RiteNow, the magazine of the Scottish Rite Valley of Pittsburgh, has touched people and inspired spirited conversations across the state. "More Light: Collected Masonic Writings 2017 - 2021" is his first book. He lives in the North Hills of Pittsburgh, Pennsylvania, with his girlfriend Kristine and their cats, Apollo & Pablo.
Austin Shifrin has been a guest on 1 episode.
May 4th, 2022 | 1 hr 6 mins

Bro. Austin Shifrin, prolific Masonic author, sits down with us to discuss his latest literary compilation and a litany of other matters that only come up After Lodge.